Tourism and Archaeology
Delivery of the statue of a woman head to observe the traces of Cyrene
#Libyan_Cloud_News_Agency - Cyrene.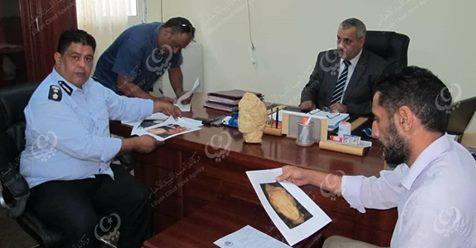 The Department of Tourism Police Branch in the eastern part of the city of Tripoli has erected a statue of the head of a woman representing the "Artemis" to the Cyrene ruins.
The head of the Information Office in the Department of International Relations and Cooperation in the Ministry, Captain Faraj al-Sanusi, said that the handover was in the presence of the Interior Ministry's undersecretary. He pointed out that the statue was found in the residence of a terrorist organization leader in Darna through the combat secret of Omar al-Mukhtar's operations room.
The Undersecretary General of the Ministry of Interior commended the efforts of the Department of Tourism Police and Antiquities Protection Department.