Political Affairs
The Libyan Customs Authority responds to the message of U.S. Ambassador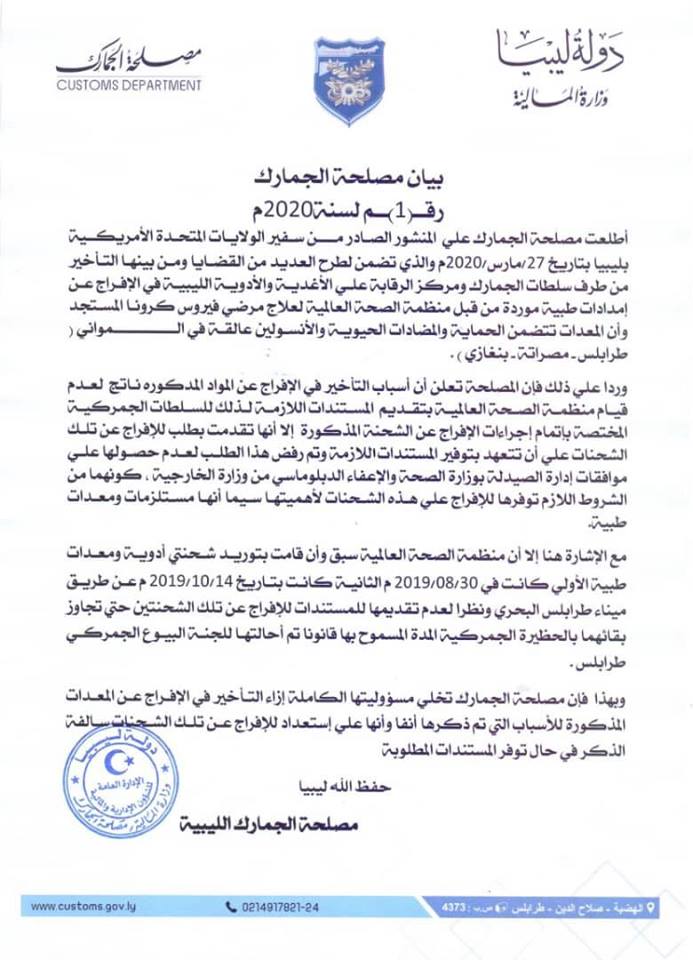 Libyan Cloud News Agency – Tripoli
The Libyan Customs Authority has clarified that the reason for the delay in releasing the medical equipment imported by the World Health Organization (WHO) into Libya is the lack of necessary documents.
In a response to the message of the Ambassador of the United States to Libya, Richard Norland, to the Libyan leaders, the authority stated that WHO did not provide the necessary documents for the release of the medical shipment.
The authority revealed that WHO had submitted a request to release this shipment, pledging to provide the necessary documents, but the request was rejected because WHO did not obtain the approval of the Pharmacy Department at the Ministry of Health and diplomatic exemption from the Ministry of Foreign Affairs.
It considered the approval as one of the necessary and basic conditions for the release of the shipment.
The authority indicated that WHO had previously imported two shipments of medicines and medical equipment. The first was on August 30, 2019, and the second was on October 14, 2019 via Tripoli seaport, but due to the failure to provide the release documents until exceeding the legally permitted period, the shipments were referred to the Customs Sales Committee.
It stressed that it is not responsible for any delay in releasing the shipment that is currently inside the port for the mentioned reasons, expressing its readiness to release it as soon as the documents are provided.
The Ambassador of the United States to Libya, Richard Norland, sent a message on March 27 to Libya's political and military leadership and the Libyan people. He urged them to stop the fighting, pay the salaries and treat the sick.
He also expressed concern over the medical supplies procured by WHO – including COVID-19 testing elements, protective equipment, antibiotics, and insulin. He said that these supplies are stuck in ports in Tripoli, Misrata and Benghazi, due to delays from Libya's Customs and Food and Drug Authorities.