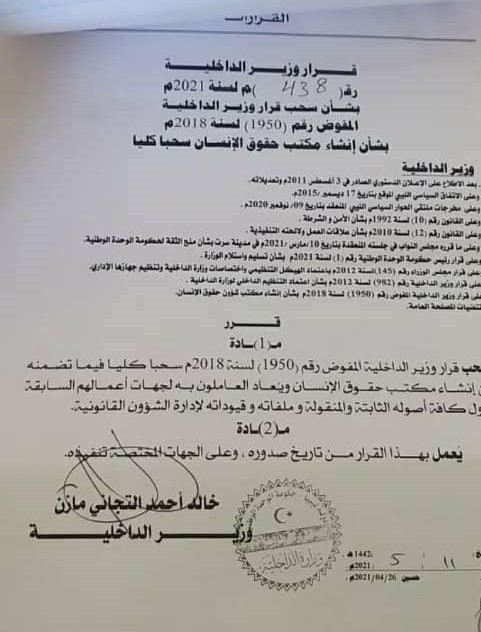 Libyan Cloud News Agency – Tripoli
Interior Minister Khaled Mazen has cancelled a previous decision by former Interior Minister Fathi Bashagha to establish a human rights office within the ministry's departments.
The National Commission for Human Rights in Libya denounced the cancellation decision, calling on the Prime Minister Abdul Hamid Al-Dabaiba to intervene to prevent the implementation of this decision.
The Commission said in a statement that the cancellation of the human rights office of the Ministry of Interior represents a serious setback in the process of promoting and ensuring the protection of human rights and the rule of law in Libya, and it contradicts the constitutional, legal and international obligations placed on the Libyan authorities to ensure the protection and promotion of human rights, citizenship and public freedoms.
The statement emphasized the importance of the human rights office in addressing violations committed by the security services, calling on the government to place the human rights file at the top of its priorities.