Political Affairs
Bani Walid organizes a seminar entitled "Criminal Sentences Resulting from Murder and Use of Arms"
#Libyan_Cloud_News_Agency - Bani Walid.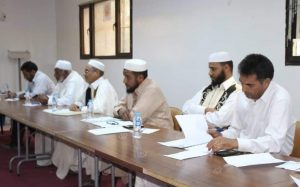 The Office of Religious Affairs in the city of Bani Walid organized a seminar entitled "Criminal judgments resulting from murder and the use of weapons" on Saturday. The Directorate of Security Bani Walid and the Attorney General of the city participated.
The seminar dealt with the definition of the Shari'ah rulings of murder, some sentences and penalties for murder, and on how to eliminate and reduce this crime in the country through preachers, sheikhs and mosques.