Health and Environment
Health Care Tokara issues final report on pollution of water sources
#Libyan_Cloud_News_Agency - Tukra.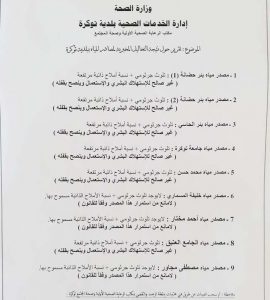 The health care office of the Department of Health Services of the Ministry of Health of the interim government issued its final report on the results of laboratory tests conducted on all water sources in Tukra city on Thursday.
The Director of the Office of Information, Awareness and Health Education Inspector Mohamed Al-Aqouri said that in the previous period reports received from the municipal guard service indicated that there is contamination in the water sources and that there are symptoms among the citizens.
Test showed that out of nine sources only three can be used without any objection according to the law and are suitable for drinking and human consumption. Six sources showed a large bacterial contamination, and there is also a percentage of salts. These sources are recommended to be locked up.