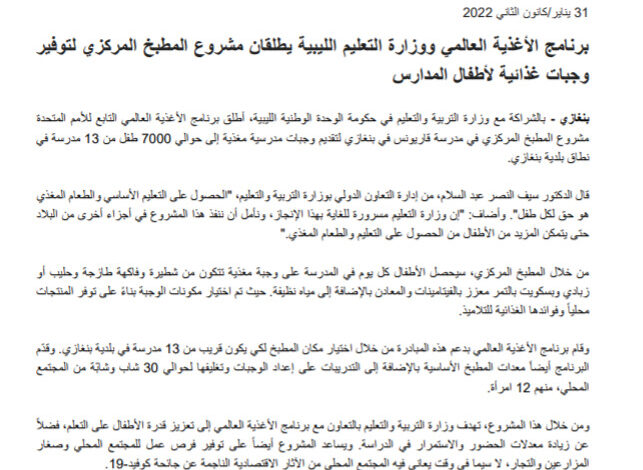 Libyan Cloud News Agency – Benghazi
The World Food Program (WFP) launched the Central Kitchen project in in Benghazi, in partnership with the Ministry of Education.
The project aims to provide school meals to about 7000 children from 13 schools in the city.
The Ministry of Education said that access to basic education and nutritious food is a right for every child, adding that this project would be implemented in other parts of the country so that more children can obtain education and nutritious food
Through the Central Kitchen, each child will receive a meal every day at school, consisting of a sandwich, fresh fruit, milk or yoghurt, and date biscuits fortified with vitamins and minerals, in addition to clean water.
The Ministry of Education, in cooperation with the World Food Program, aims to enhance children's ability to learn, as well as increase attendance and continuity rates.
The project also helps provide job opportunities for the local community, small farmers and traders.
WFP Representative and Country Director in Libya Rawad Halabi said that investing in school feeding is an investment in the health, education and future of the child as well as the future of the nation.