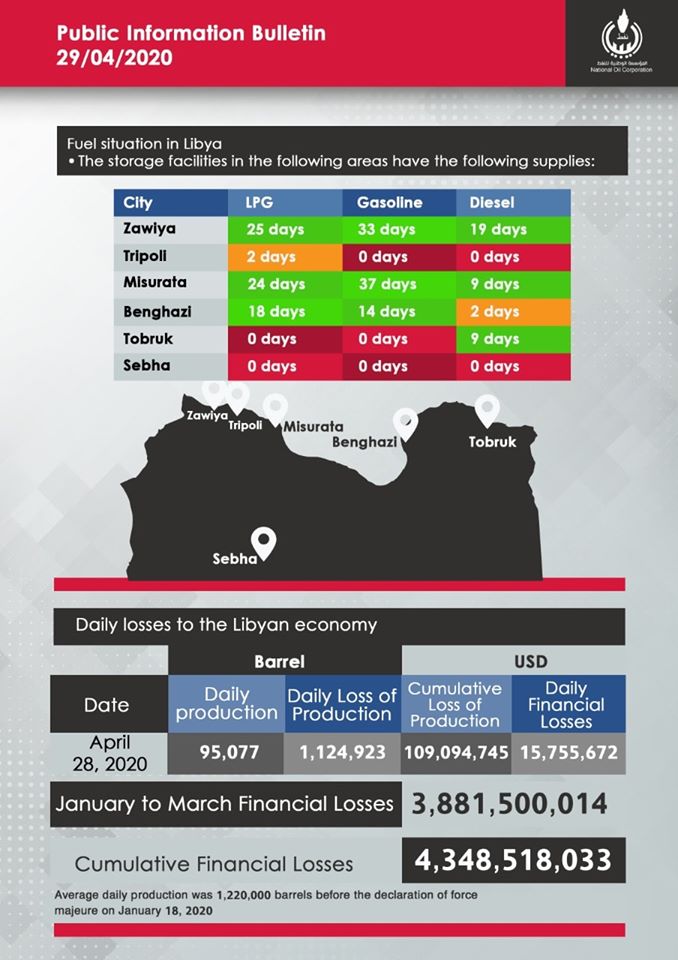 Libyan Cloud News Agency – Tripoli
The National Oil Corporation said that the forced restriction of oil and gas production has caused financial losses exceeding $4,348,518,033 since January 17, 2020.
NOC explained in a statement that the public treasury has incurred additional costs to cover domestic shortages of fuels by importing from external sources; this has increased the financial burden on the fuel budget.
The statement expressed concerns about the present and future of the country, and stressed the need to lift the blockade on its facilities and resume oil and gas production, to boost the national economy.
NOC called on all parties to lift the blockade and re-start oil and gas production, so every Libyan can benefit from a more steady supply of fuels and a stronger economy.
NOC reassured that it's still providing fuels to people in the eastern regions via different ports across the coastline.
"A gasoline tanker and two diesel tankers are preparing to unload at the Benghazi port on Wednesday. Tobruk and the rest of the eastern region are being supplied by NOC directly from Benghazi," NOC indicated.
It added that Tripoli is being supplied directly through its port, while other cities in the western and mountain regions are receiving fuel from the Zawiya storage facilities. Zliten, Khoms, Maslata, Garbulli, Abugrein and Misurata city and local power stations are being supplied from the Misurata storage tanks.